Exhibits & Events
Paint Pleasanton 2022
Artists from far and wide will gather again this year to paint plein air the many historic and beautiful locations in and around the City of Pleasanton during Paint Pleasanton 2022. Starting at the Museum on Main, 603 Main Street, Pleasanton, on Saturday, Sept. 17 for sign in and ending back at the Museum on Main on Sunday afternoon Sept. 18 for judging, awards and the viewing and purchasing of art. The public is invited to join in the fun!
---
Firehouse Arts Center
Firehouse Art Center, 4444 Railroad Ave., Pleasanton. Firehouse phone number: (925) 931-4848.
Current Harrington Gallery Exhibit
Transitions: The Beauty of Life's Journey
August 27 – October 22, 2022, Reception: Saturday, August 27, 1-3pm
Transitions: The Beauty of Life's Journey features 20 nationally-known artists from California. This exhibition revolves around each artist's interpretation of transitional elements in our lives. Artists may choose to interpret this theme in landscape, figurative or still life paintings and will be using a variety of mediums including oil, pastel, and watercolor. Interpretations range from transitional elements in the landscape by season or the time of day, while figurative works encompass life's changes. Also included in this exhibition are a selection of still lifes reflecting the organic qualities of the world as other works focus on the changing elements of our land and landmarks over time. (Guest curated by Ellen Howard.)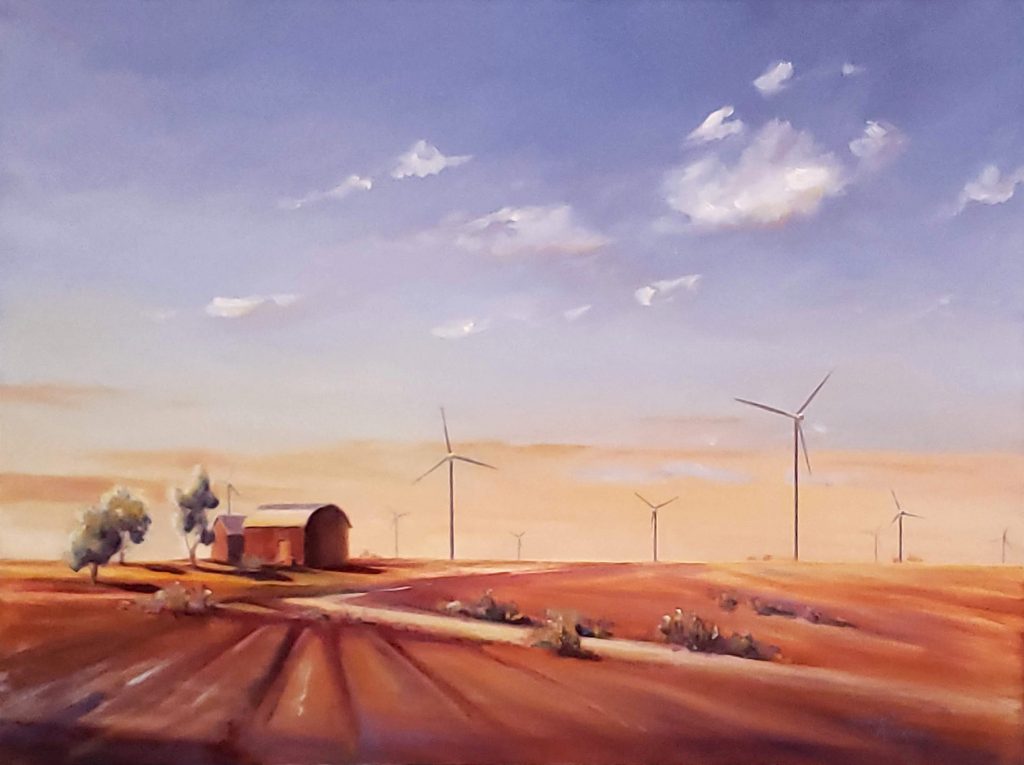 Hours: Wednesday – Friday, 10 am to 5 pm; Saturdays 11 am to 3 pm
Charlotte Severin Solo Exhibition
The Nancy Thompson Memorial Wall
The Nancy Thompson Memorial / PAL Wall is located on the second floor of the Firehouse Arts Center and open for visitors during normal operating hours  – Wednesday – Friday, 10 am to 5 pm; Saturdays 11 am to 3 pm.
Christine Bourg Exhibit
Christine will be showing her artwork on the Nancy Thompson Memorial PAL Wall at the Firehouse Arts Center from September 10 to October 22.
Christine writes regarding her art – "I've worked with art materials since childhood, with crayons and coloring books, making house designs on sheets of butcher paper and modeling clay into animals. I took all the art classes they had in high school then went on to college majoring in sculpture and ceramics. I earned a teaching credential and taught elementary school for 34 years. I always included art in the curriculum as it was one of my passions.
Since retiring I've spent much of my free time playing with art in various forms and taking art classes. My main love is ceramics but a close second is drawing with colored pencils. Over the years I've won awards for both ceramics and drawing and I've sold my art locally. I'm currently working with PAL as the chair of the PAL/MOM art show."
---
Museum on Main
603 Main St, Pleasanton, CA 94566
California Votes
– August 16 – October 8 – Despite California's influence on our nation's politics, voter turnout in California falls below the national average. While the political focus is usually at the federal and state levels, local political issues have a greater impact on our everyday lives. In both English and Spanish, 
California Votes: Exercise Your Right! 
breaks down the importance of voting, demystifies referendums and ballot measures, highlights political ephemera in your collection, and encourages your visitors to make their voices heard on the local, state, and national levels. For lectures and future exhibits visit
museumonmain.org/exhibits.html
---
Valley Art Gallery
1661 Botelho Dr # 110, Walnut Creek, CA 94596
Lisa Rigge
will be the guest artist at Valley Art Gallery
https://valleyartgallery.org/event-cat/upcoming-events/
 from August 9th through September 16th. 
Lisa will be at the gallery Saturday, August 13, 11 am – 2 pm and Tuesday, August 23, 2 – 5 pm if you'd like to drop in while she's there.
Valley Art Gallery is also hosting an Open House with a $300 gift certificate on Aug. 28th from 2-5 as part of Walnut Creek's "Arts Around August" events. Check the link for more information on Lisa's show and the $300 drawing.
Click on image below to view Lisa's work in gallery mode.
---
LAA'S Art Space
On September 24, 1:00 to 3:00: Meghana Mitragotri, LAA's featured artist, says: "I am excited to welcome people to my new tiny little art studio that stands under a fruitless mulberry tree in my backyard. I will perform a short watercolor demonstration at 1:30 pm. Guests are requested to enter through the side gate where I will have a Welcome sign. My address is 294 Scherman Way, Livermore."
---
Ryan's Automotive
Lorraine Wells will show her paintings at Ryan's Automotive in Livermore, 1931 First Street until October. (925) 454-5212.
---
Throughout the Tri-Valley – 'Picture This'
'Picture This' – temporary public art exhibit installed at Dublin Heritage Park and Museums, 6600 Donlon Way. Reka Joshi's Frame. The title is the Beauty of the Tri- Valley. The exhibit runs through September 30th, 2022. For more info: https://visittrivalley.com/picture-this/ and  https://dublin.ca.gov/2465/Picture-This-Temporary-Public-Art-Projec
---
Livermore Library Gallery
LAA Artists at the Livermore Library Gallery September 1- 30. Enjoy a stroll through the beautiful gallery space in the Library. See paintings and photography by LAA's talented family of artists. Theme: What Do you Do in the Summer?
---
21st Annual ArtWalk Livermore
Saturday, October 8 – 11 am – 5 pm
Join us at ArtWalk – the Tri Valley's premiere one day art festival. Over 200 artists display their works on sidewalks and plazas, in parks and galleries, surrounded by boutique shops, wine tasting rooms and restaurants in historic downtown Livermore. Art works range from contemporary to classical, abstract to realism, pottery to mixed media, handmade bags, ceramic garden art and jewelry, with subject matter from floral to figurative and much more. Art is the main focus of the day at ArtWalk: meet the artists and buy one-of-a-kind, original hand made treasures.
PAL will have a booth in Livermorium Park. For information https://livermorearts.org/artwalk-2021/
---
LAA Gallery
Upstairs in the Carnegie Building, 2155 3rd Street, Livermore
Summer Gallery Hours: Thursday – Saturday, 11:30 to 4:00. Open Thursday Farmers Market Hours: 4:00-8:00. Sundays 10:00 to 2:00. www.LivermoreArtAssociation.org
2022 Gallery Dates:
September 25 – Jewelry and Wearable Art Show
December 3,4 – Christmas Event